Transit & Biking with MART
Increasing concern for air quality, energy conservation, rising fuel costs, and the health benefits of getting outdoors is leading to renewed interest in alternate modes of transportation in the Montachusett Region and throughout the state. The goal for our region is to work toward a more sustainable transportation system by educating and promoting alternate modes of transportation throughout the region. One important way to promote mode shift is to educate the public on bicycle and pedestrian transportation alternatives.
Commuters can combine bicycle and pedestrian modes with traditional transit modes such as bus and commuter rail. MART is doing their part by accommodating commuters who wish to embrace this alternative mode. MART has installed bicycle racks on all of our large transit buses and some mini-buses that provide "fixed route" service. We also have stationary bike racks (soon to be covered) at all 3 of our commuter rail park and ride facilities.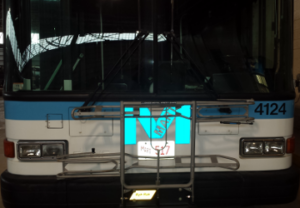 The following maps show the pedestrian access points to 5 commuter rail stations in MART's member communities.
The Massachusetts Department of Transportation (MassDOT) has posted online the draft Massachusetts Municipal Resource Guide for Bikeability so the public may comment (comment period ended on 12/1/18) on the Commonwealth's effort to provide cities and towns the tools and information needed to provide safe, comfortable, and convenient bike networks that appeal to the broadest base of people. The Municipal Resource Guide is a companion document to the Statewide Bicycle Transportation Plan currently in development that will recommend policies, programs and projects for MassDOT to guide decision making and capital investments with the goals of creating high-comfort connected bike networks for people of all ages and abilities and increase the convenience and attractiveness of biking.
The Montachusett Regional Planning Commission is working on educating the public and addressing the challenges to accomplishing this mode shift. To find out more information on their efforts, please visit the following:
http://www.mrpc.org/sites/montachusettrpc/files/file/file/bike_ped_chapter.pdf