Bus Tracker & Alerts
June 14, 2023
MART Connects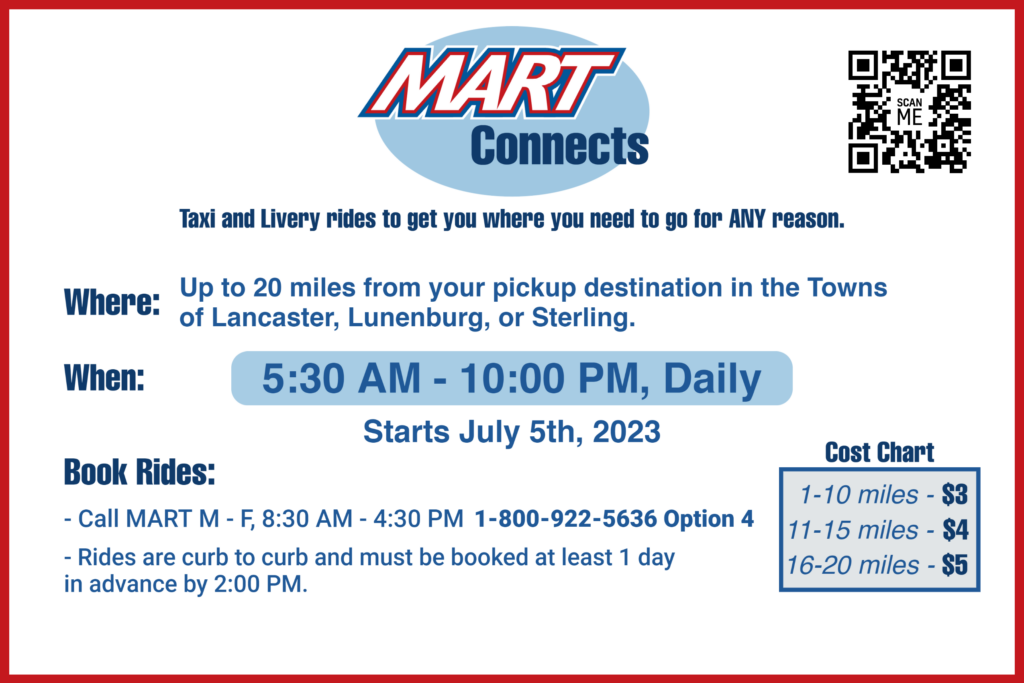 MART Connects Begins Taxi and Livery Service in the Towns of Lancaster, Lunenburg, and Sterling. 
The Montachusett Regional Transit Authority (MART) is starting a Taxi and Livery service for its member communities on July 5th, 2023, in Lancaster, Lunenburg, and Sterling called MART Connects. This ride service is funded by MassDevelopment and its purpose is to assist individuals to be transported to and from the towns of Lancaster, Lunenburg, and Sterling. The rides with this grant can be for any reason and taxis will provide the rides. Individuals must be at least eighteen (18) years old to book trips. Individuals must be a minimum of eight (8) years old to ride. Book your rides up to 20 miles from your pickup location 7 days a week from 5:30 AM – 10:00 PM.
To book rides for MART Connects call MART at 1-800-922-5636, Option 4. Rides are curb-to-curb and must be booked at least a day in advance by 2:00 PM the day before your trip. You pay over the phone with a credit or debit card with our customer service representatives who will set up a rider profile with you in MART's system to make it simple to book future trips.
MART has met with the leadership in Lancaster, Lunenburg, and Sterling and will be doing a series of marketing efforts to promote the grant to people in these communities. The goal of MART Connects is to provide better access to transportation in rural communities that may not have significant public transportation availability and get town residents where they need to go to lead their lives.
If you have any questions about MART Connects, please call MART's 1-800 number and our customer service representatives will assist you. We look forward to helping Lancaster's, Lunenburg's, and Sterling's residents better meet their ride needs.
---
September 20, 2022
Wi-Fi on board Fixed-Route Buses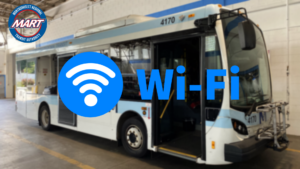 MART is excited to announce that we now have free Wi-Fi on board all fixed-route buses!
To get started using our MART's Wi-Fi, select the "MART Rider" Wi-Fi on your personal device. You will then be presented with MART's terms and conditions in which you can confirm that you have read and agree in this seamless one-time process. And then you are good to go. It is that easy!
The new MART is adding many new amenities to improve our riders experience on our buses to make your travel time with us more enjoyable. Implementing Wi-Fi is just the start. We look forward to you experiencing the new MART and fulfilling our mission statement, "To serve people by getting them where they need to go to lead their lives."
---
January 4, 2023
MART Driver Openings for 2023
We are Hiring Drivers! – MART (mrta.us)
In the Fitchburg, Gardner, Leominster Area!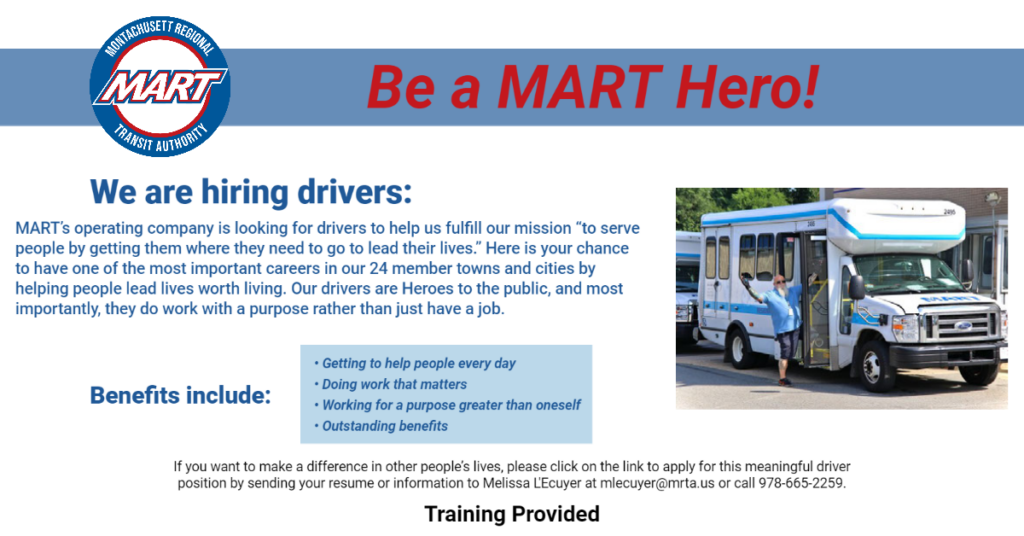 ---