Bus Tracker & Alerts
Procurement Manager Position
February 17, 2023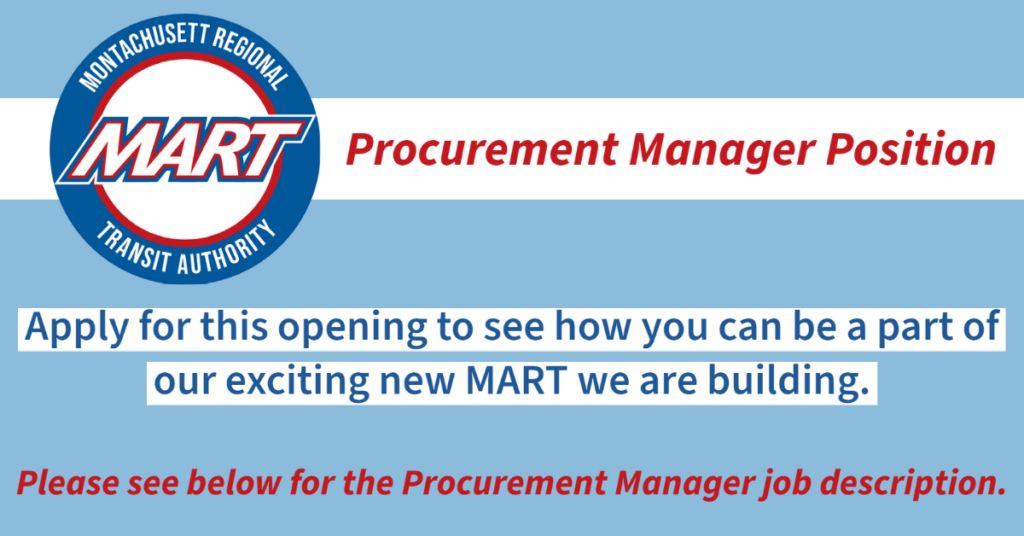 The Montachusett Regional Transit Authority (MART) is adding a talented person who oversees the process of how we procure all the items needed to run our organization.  The person who is in this position represents a key role within the organization, as they are in charge of the acquisition of all contracts, equipment, and other resources MART needs to operate our transit authority.  This is a multifaceted position and has substantial diversity in day-to-day activities as each procurement touches on different parts of the organization.  This opportunity will truly experience all the areas of MART and get to feel he or she is contributing to the great good we do for our 24 member towns and cities in providing public transportation.  As everything begins with procurement, the right candidate will be the upfront starter in how our mission statement begins "To serve people by getting them where they need to go to lead their lives"   
If you want an opportunity to:
Be a person who makes a difference to others.
Work for an organization that matters.
Have diverse job responsibilities.
Live a career with significance.
Have a leadership role.
Apply for this opening to see how you can be part of the exciting new MART we are building.
Please see below for the Procurement Manager job description.
Procurement Manager Job Description Rev 2.9.23. (1)
All resumes are sent to: Humanresources@mrta.us
Back to Job Postings