Bus Tracker & Alerts
Grants Manager Position
February 17, 2023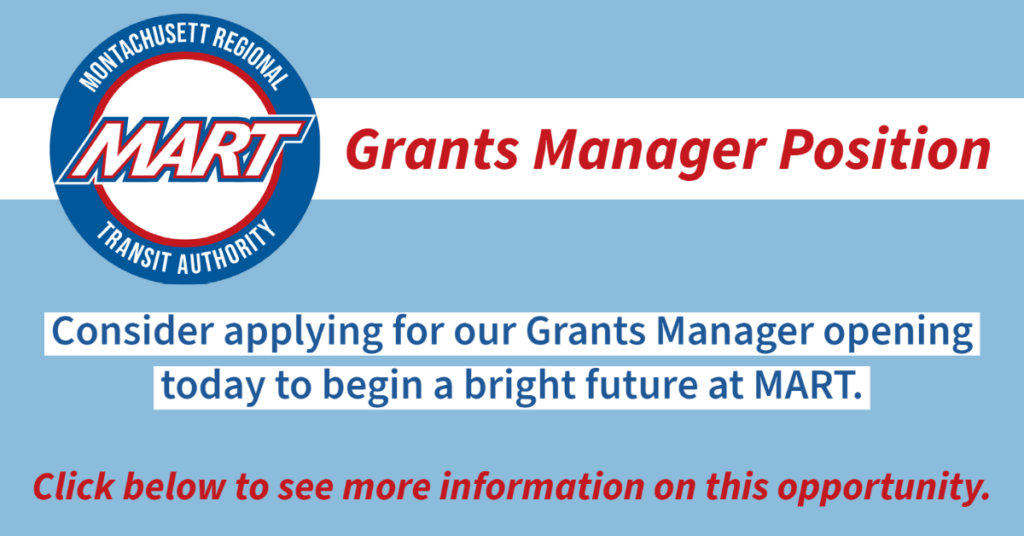 The Montachusett regional Transit Authority (MART) is looking to fill the dynamic, important position of Grants Manager.  This position is multifaceted and works with a variety of duties in the meaningful role of obtaining and managing our transit authority's funding resources.  The Grants Manager opportunity will allow you to see firsthand how we acquire and manage our funds to realize our mission statement "To serve people by getting them where they need to go to lead their lives".  You will truly be able to make a difference in life in this role as you will be able to manage our current funding resources, as well as research and discover new funding sources for making the lives of the people in our 24 member communities have access to the most important social determinant of health – transportation.
If you are looking for a career where you:
Know your work matters.
Has tremendous variety.
Are positioned as a leader in our organization.
Are a team player.
Give back to others.
Consider applying for our Grants Manager opening today to begin a bright future at MART.
Click below to see more information on this opportunity.
Grants Manager Job Description Final Rev 2.14.22
Please send all resumes to: Scott.Rich@mrta.us
Back to Job Postings